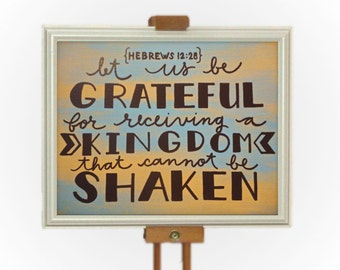 The times are changing
and we need to awaken…
for whatever can be shaken
will be shaken.
And what we think
is solid and stable…
May not last,
being destroyed if able.
For like birth pains
more frequent and strong…
the "shaking" is here…
where many things will go wrong.
For the only things
that will not be knocked…
are the things in this world
that stand on The Rock.
'Cause His Kingdom is solid
and will not be shaken.
So hold onto Christ…
cause all things may be taken.
When the money system collapses
and your job is gone…
When you have no income,
and all things have gone wrong…
With environmental changes
with extremes in weather…
with earthquakes and tsunamis…
will you hold it together?
When many are starving
with food and water sparse.
Then will you believe it's true
and no longer a farce.
Will you have the Faith
to have no fear…
Believing God's promises
as He draws you near.
Will you have a walk with God
that you can speak to the rock…
or speak to the heavens…
for falling manna or a flock.
Because this world will be shaken…
and it's already begun.
And the time is nearing…
for revealing of His Manifest Sons.
Hebrews 12:27-29 "This means that all of creation will be shaken and removed, so that only unshakable things will remain. Since we are receiving a Kingdom that is unshakable, let us be thankful and please God by worshiping him with holy fear and awe. For our God is a devouring fire."
Psalm 62:2 "He alone is my rock and my salvation, my fortress where I will never be shaken."
© Secret Angel and The Abuse Expose' with Secret Angel, 2014.