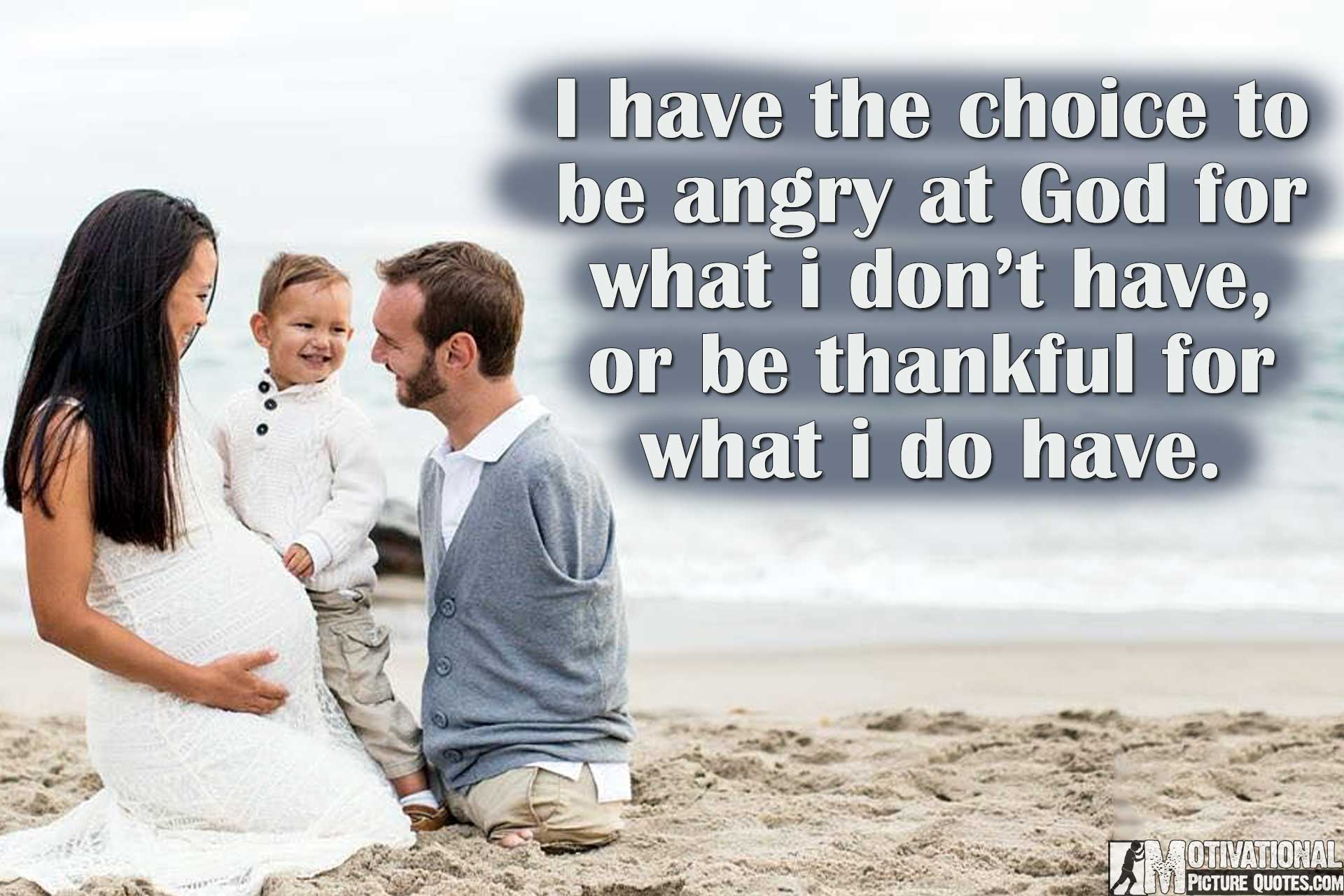 I saw this quote and wanted to share it with you today.
"I have the choice to be angry at God for what I don't have,
or be thankful for what I do have." by Nick Vujicic

Nick Vujicic is the man who was born with no arms or legs…
but he is a motivational speaker today, reaching out to help many.
*******
Now, how many of us get upset, bitter,  or even angry when we look around and see what we don't have or what we may have lost or the abuses that we have suffered.  It's an indicator of our woundedness and our overall perspective on life. But we need to  refocus!
Let's try to focus on the positive instead of the negative. Let's also try to look at the broader picture, like how God sees it, instead of how the world would see it. For as humans, we tend to have a very narrow-minded focus. But God has an eternal focus with an eternal plan for each of us. He wants to use us like we are, with or without arms and legs, with our own personal stories to bring us into the fullness of His divine calling that He has for each of our lives. We just need to seek His will for our lives, follow Him as He leads, and realize that He is ALL that we need.
"Don't copy the behavior and customs of this world, but let God transform you into a new person by changing the way you think. Then you will learn to know God's will for you, which is good and pleasing and perfect." Romans 12:2
"No, the Lord is all I need.
He takes care of me.
My share in life has been pleasant.
My part has been beautiful.
I praise the Lord because he guides me.
Even at night, I feel his leading.
I keep the Lord before me always.
Because he is close by my side
I will not be hurt.
So I rejoice, and I am glad.
Even my body has hope." Psalm 16: 5-9