I want to share some of my thoughts from the weekend. If you have every watched people in a crowd, you can see the brokenness of so many just by the way they walk, dress, look, and/ or act. Please join me in prayer for those who are broken and feel trapped in their situations.
This is a message to the broken…
who repeatedly try to hide.
But God sees your wounds…
and collected every tear you've cried.
And you may try to hide it…
but even we can see right through.
For even the clothes that you wear…
reveal the woundedness in you.

When you wear a long sleeve shirt or coat…
and it's 90 degrees outside…
don't you realize that we know…
the wounds you're trying to hide.
Whether bruises from beatings…
or from a drug abuse injection…
what you are trying to hide…
displays the feelings of rejection.

Or whether scars from abuse…
or scars from cuts self-inflicted…
even the hollowness on your faces…
reveals those broken or addicted.
Then there those who walk away…
when you try to encourage or assist…
their wounds are so obvious…
but any encouragement they resist.

Like the woman this weekend…
who would not even take a bookmark…
for it had resources for domestic violence…
and with tears in her eyes she disembarked.
For she could not accept this gift…
with the man who behind her stood…
but the immediate tears in her eyes…
revealed much more that even she understood.

And whether in domestic violence…
or trapped in sex trafficking rings…
I cry out to God for her and others…
for the freedom that His Son still brings.
So let's pray now for every victim…
who in brokenness you try to hide…
for your actions speak louder than words…
with deep wounds revealed from inside.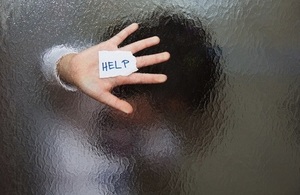 We pray for your deliverance…
from the situation that you are in…
that you will get healing and restoration…
and a new life for you will begin.
That you will realize you deserve better…
and no longer believe the enemy's ploy…
for it's Satan that pulls us down…
as he comes to kill, steal, and destroy.

And no matter what you have done…
or the abuses that you have gone through…
God heals, restores, and redeems…
and will start your life anew.
So let's call on our Savior for help…
who was beat and died for us all…
for His Spirit will empower you…
and from the ashes you'll rise and not fall.
And we pray for open doors to leave…
and that rescues will be orchestrated…
for we are all children of God…
and none should be used, abused, or berated.
© Secret Angel and The Abuse Expose' with Secret Angel, 2016.