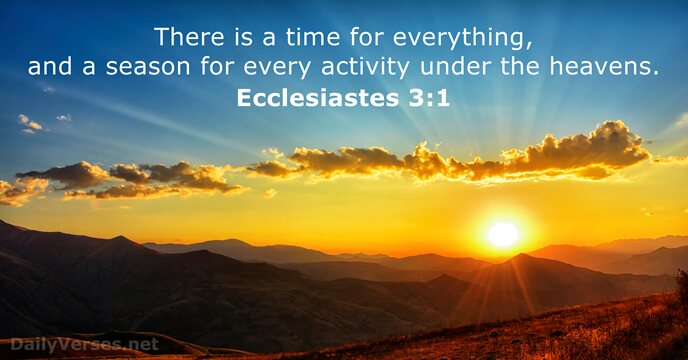 A time for everything…
like Ecclesiastes tells us all…
with a season for every activity…
as we move forward to our call.
For God has placed His plans…
in every human heart…
and as we go through every season…
our purposes will not depart.
And though we face struggles…
as we move forward everyday…
He will never leave or forsake us…
and for our success we now pray.
That we will accomplish…
God purposes for us this year…
and that His plan for our lives…
will become abundantly clear.
© Secret Angel and The Abuse Expose' with Secret Angel, 2019.
Ecclesiastes 3

A Time for Everything

3 There is a time for everything,
and a season for every activity under the heavens:

2     a time to be born and a time to die,
a time to plant and a time to uproot,
3     a time to kill and a time to heal,
a time to tear down and a time to build,
4     a time to weep and a time to laugh,
a time to mourn and a time to dance,
5     a time to scatter stones and a time to gather them,
a time to embrace and a time to refrain from embracing,
6     a time to search and a time to give up,
a time to keep and a time to throw away,
7     a time to tear and a time to mend,
a time to be silent and a time to speak,
8     a time to love and a time to hate,
a time for war and a time for peace.

9 What do workers gain from their toil? 10 I have seen the burden God has laid on the human race. 11 He has made everything beautiful in its time. He has also set eternity in the human heart; yet no one can fathom what God has done from beginning to end.