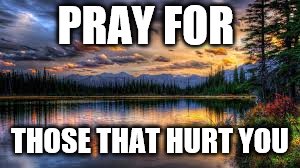 Praying for those who hurt us…
is not always easy to do…
especially with domestic violence…
and all the abuse we've been through.
But God wants us to forgive…
and rise above all our pain…
to pray for our abusers…
and watch the healing we'll gain.
For we are all God's children…
including those who abuse too…
and He wants us to release our fears…
and trust Him to see us through.
For He sees all that's been done…
with all the abuse and more…
but wants us to release all bitterness…
for Him to heal us and restore.
For bitterness and unforgiveness…
is like an anchor that holds us down…
but when it's released to God…
total healing and restoration can be found.
© Secret Angel and The Abuse Expose' with Secret Angel, 2019.